Be2 is a dating platform that serves singles from the last 15 years to meet their perfect match. Europeans are using it to find a partner and develop meaningful relationships. The website is different from other dating websites because it uses a unique matchmaking system. Its success rate is also due to the mechanism that it follows to find compatible partners.
This review article has prepared you to let you know everything you want to know before being a member of Be2. Read the full article to have a clear understanding.
It begins with all the pros and cons of the website.
Be2 works to help the singles to find a compatible partner to spend their life with. One can register for it free of cost. Email verification and some time for filling the application form are required to become its member. The website works with a unique matchmaking system that works as a sure shot to find the perfect match.
The website is quite predictive and easy to be explored.
Be2 has its unique algorithm and claims that they follow the scientific approach of matchmaking. It is formed by combining each member's analysis based on a combination of anthropological, psychological, sociological approaches.
Once anyone becomes its registered member, he/she can start browsing through others' profiles. The site also suggests a few possible matches based on your locality.
Signing up to https://www.be2.in/ is an easy task but takes some time. The first step is about disclosing your gender and the preferred gender you are looking for. The second step involves inputting email addresses for account verification.
Then it requires a unique username. Afterward, a personality test would appear on the screen with some questions. The test includes fields that ask about your character, perception of different things, and your ideal match's personality. For answering, a scale of 1-5 is used, which shows how much you're interested in a particular field of the test, where five is the highest and one the lowest. Once you are done with all the questions, the result is calculated, which the site further uses for finding recommended matches.
After all this, it asks for personal details like name, birth, location, profession, education, income, religion, habits, and appearance. Filling all these fields is mandatory.
Once all this is done, it is recommended that the user uploads a profile picture to enhance the chances of getting a partner. For safety issues, the user can blur the picture, and it will be visible to premium members and the other selected members only.
Only paid members can use Be2 actively; it shows all the registered profiles are genuine. All the profiles are quite detailed; this allows all the users to know about every member's interests and preferences. All the traits and characteristics of physical appearance, educational, and cultural background are also mentioned on each profile.
There is also a section named 'Your Compatibility' on the right sidebar of every profile. Here, you can find the results of your similarities and score of compatibility. Click on the 'More details about matching' button to know about the compatibility in detail.
To have communication with the matches, the premium membership is a must. All the premium members can contact the members by sending and receiving unlimited messages. A "favorites list" can also be created for your favorite profiles.
Besides this, the matches are suggested on Be2 through two methods. The first one is based on the personality test, while the second one is through "Picture Voting." When you visit the"Matches" page on the right sidebar, there is another matching feature. The picture of a potential match is displayed, and it comes with two action buttons, i.e., 'X' and a 'thumbs up.' If you like the displayed picture, you can click on the thumbs up button that will send similar to that member. However, if you are not interested in that particular picture, click the 'X' button that will ultimately lead you to the next picture.
Be2 has more than 700,000 users worldwide. The home page of their official website shows that 766,000 registered members. The users of this website generally belong to European countries. The site is open to straight men, women, as well as other genders. The age group of all these users is also diversified. All the users are highly active on the website. The website removes inactive users to eradicate suspicious accounts.
There are a few numbers of premium users because of its expensive subscription.
All members who register themselves on Be2 are searching for a partner to have a long term serious relationship.
Any adult who wants to get into a relationship can register to Be2. There is no strict maximum age bar to use this dating site. It has users from diverse age groups, ranging from 18 to 55+. The maximum number of users fall under the age group of 35-44.
The site welcomes everyone beyond their sexual preferences. With clearly specifying preferences, the members can look for their perfect matches. The site is open to both straight men, women, and gays.
Men dominate the site as it has 57% male and 43% female users.
The website is not at all specific to any race or ethnicity. Any person belonging to any cultural background and race and choose to be its member.
Be2 is not specific to any particular religion. People of any religion can become its members.
This dating website has advanced features that can add value to its members' dating journey. It is better to initiate its exclusive features. These are as follows:
Just Ask: This feature works well to break the ice without involving much thinking about sending the text. There is a list of some pre-formatted messages which can be used to communicate with any user. It is helpful to better know a person by analyzing their responses.
Be2 Index: This feature has a calculation of everything mentioned on a profile, from its personality test to the profile description. It is the major tool that evaluates your compatibility with any other user. It can be found on the right-hand side of any profile under the "More details about matching" button.
These two are the unique features that are only found in Be2. There are some other features as well. These include:
Browsing other profiles: Any registered member can navigate all the profiles on Be2 for free.
Daily matches: The website suggests new matches every day. All the members are allowed to see the list of their compatible matches.
Messages: This feature is open only for paid users. Premium subscribers can send unlimited messages to all the other users as well as read the received messages.
Profile visitors: On Be2, the premium members can see who visited their profile. These profiles can be further checked and followed if the member finds it interesting.
The website is a safe platform to find genuine dates. All the features are only accessible to paid users. Therefore the site is free from any fake profiles. The site claims to have a 100% secure and trustworthy dating system. All the shared data is protected on Be2. The terms and guidelines of its privacy policy clearly state which of the personal details are being collected. Along with this, it clarifies that personal information is not shared with third parties.
Their security systems are quite strict. They directly remove the incomplete, inactive, or any suspicious accounts.
Besides this much strict security, any annoying or suspicious member can be easily reported by any legit user. It is required to visit its profile page and click on the 'Report Member' option for reporting an account.
Be2 is a legit dating service. It has helped most of its users to find their perfect partners. The website has been on the web since 2004 and has earned a reputation since then. It has completed 16 years of service, among other dating websites. This long period proves its genuineness.
The website can be fully used only with a premium subscription. Free members cannot access most of its features. The paid membership has three different plans for varying periods and prices. The three different plans are categorized as Basic, Classic, and Committed.
Their detailed description is as follows:
Basic subscription: Its duration is one month. The price of this plan is 99.95 NZD/month.
Classic subscription: It lasts for six months. It can be subscribed for 49.98 NZD/month. It requires an overall expense of 299.88 NZD.
Committed subscription: This plan's price is 39.95 NZD/month, and it has a validity of 12 months. Therefore it requires a total expenditure of 479.40 NZD.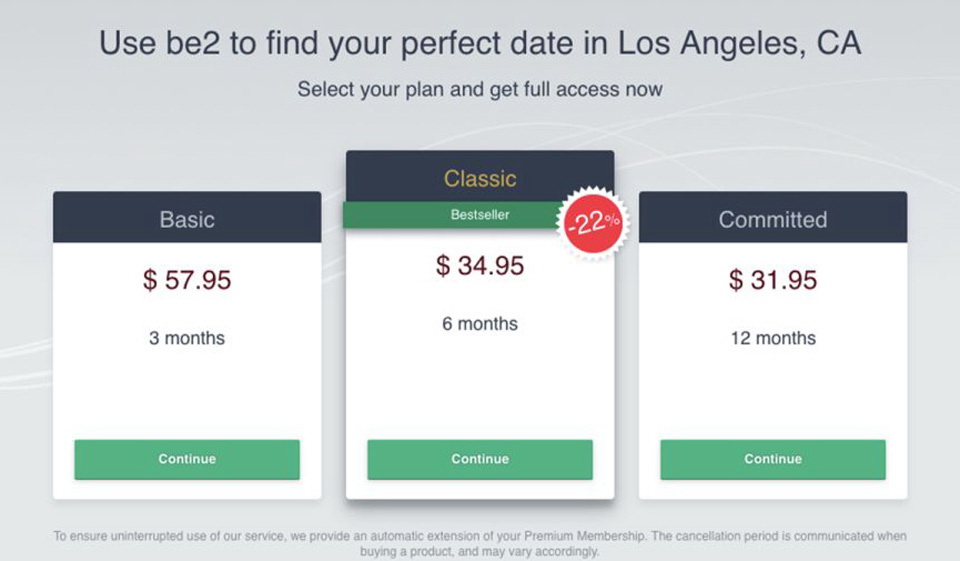 Be2 doesn't offer much to free users. The free services are limited to some basic features. These include:
Registration: The users can become this dating website's members for free. There is no price involved in joining this dating network.
Profile generation: The creation of a profile is a free feature. All the details can be filled for profile creation along with uploading the profile picture.
Daily matches: Free members also get free suggestions for matches.
Browsing other profiles: A free user can also browse other profiles as soon as the registration process completes.
The paid membership of Be2 opens all the advanced dating features to its users. These include:
Messaging service: All the paid users are allowed to receive and send unlimited messages on Be2.
Photo galleries: Premium users can access the photo galleries and view all the uploaded pictures.
View profile visitors: This feature allows the premium users to determine which member has visited their profile.
Favorite list: This feature allows us to create a list where the paid members can pin their favorite profiles on Be2 for contacting later
The price of all the paid plans has already been described in the above section.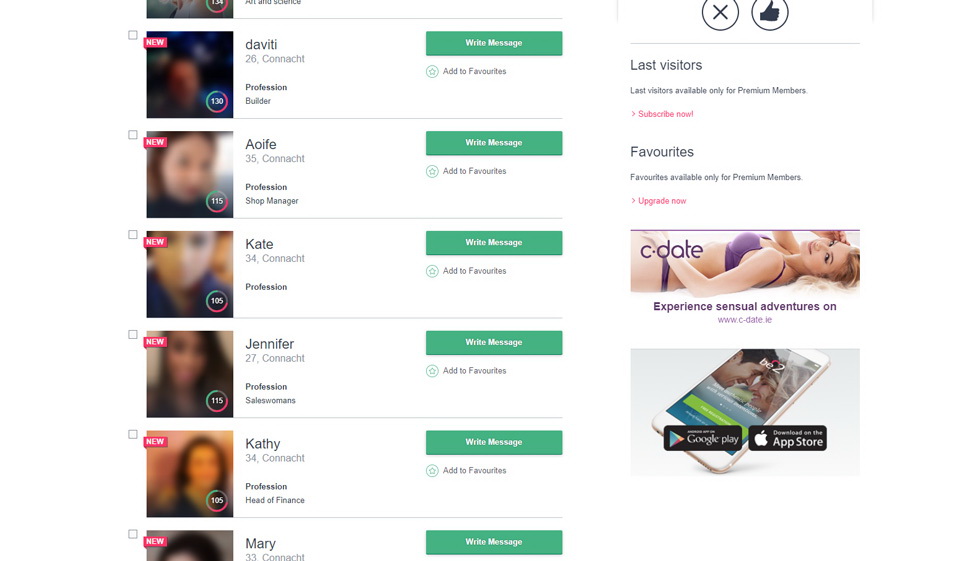 The layout of the website is simple and straightforward. Nothing seems complicated or confusing to Be2's members. There are no special features. It has two primary tabs on its main menu tab. These include Matches and Message Inbox. Their icons are visible on the main header menu. If any notification of a new match or message comes up, it flashes a red bubble on the respective icon.
The website's design has a pattern of three colors, namely white, grey, and pink. The website is kept easy and straightforward so that members of any age group can use it. Though the layout is simple, the site performs its task of finding matches perfectly.
Be2 dating platform can be used via mobile phone as well, along with the website. The mobile application is supported on Android as well as iOS mobile phones. It can be downloaded for free from Google Play Store or Apple Play Store.
All the features on the mobile application are the same. The users find the application quite friendly. The registration process through mobile application takes less time.
People prefer to use Be2 through mobile applications because of its compactness.
The following section is dedicated to the website's contact details:
Company: be2 LLC
Address: 874 Walker Rd Ste C, Dover, DE 19904-2778
E-mail: [email protected]
Overall, Be2 is a must-use website. Though the premium plans are expensive, the site is highly successful in bringing compatible singles together. It is safe to find a partner on this website with its secure dating mechanism and privacy policy. If you're someone who can spend money and wants to have a perfect match, then trying Be2 would be a great platform to fulfill your expectations. Try it out today!